California Superbike School

Good Value and Good Fun
Introduction
As a late comer to motorcycling (at age 61), I was attuned from the outset to the need for training. Apart from the courses associated with obtaining my learner's permit and provisional licence, I did Stay Upright's Braking and Cornering Level I course while still on my Ls. This was on a small training track locally. Later, accompanied by a couple of fellow riders from Canberra, I did their Level II course at the now-defunct Oran Park race track in Sydney. That was beneficial and fun.
Over the ensuing years, I had come across references to the California Superbike School, but had not given it much attention. However, I must have stored in my memory the several positive allusions that had been made to the school because sometime in 2011 I made an "executive decision" to try it out for myself.
The Tracks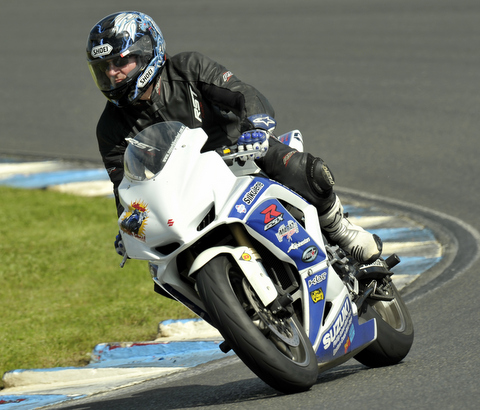 The California Superbike School operates mainly at Phillip Island Grand Prix Circuit and Eastern Creek International Raceway. I chose Phillip Island even though it was more than twice the distance from where I live (720km versus 280km). I can't recall whether my choice was based on the attraction of Phillip Island and some familiarity with the track, having been there for both MotoGP and Superbike races, or because that was the only vacancy at the time of booking. I'm inclined to think it was the former.
How The School Works
The school offers four levels of its eponymous Cornering course. There's no jumping levels. No one can enrol in any level above Level 1 unless they have already completed the level or levels below. Each level is undertaken over one (long) day. Levels 1-3 are very structured days encompassing five sessions, with each session encompassing classroom work centred on specific skills; monitored track work practising the skills by way of set drills; and the provision of feed-back from mentors who follow and lead participants around the track. Level 4 is a one-on-one day with a trainer, with the content tailored to the needs of the participant and open access to the track.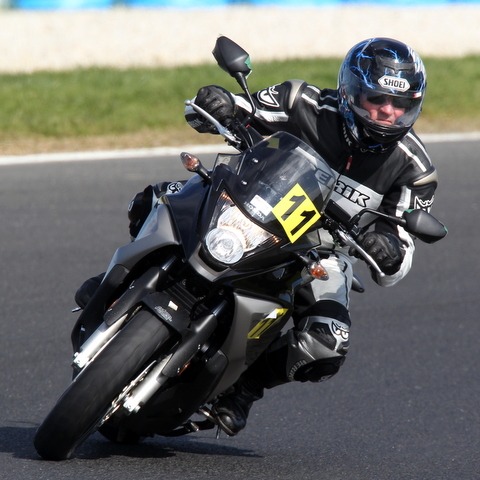 I found the course (Level 1) amazingly enlightening and valuable in practical terms. I felt I came away with a new set of tangible procedures to implement as part of the cornering process. This immediately gave me a huge confidence boost in preparing for and executing turns. I found I had quite a dramatic change of attitude towards cornering as well as of approach to braking, gearing, steering, and throttling. The 720km ride home provided a perfect opportunity to practise my newly acquired learning.
I hadn't initially intended to do the higher levels. There seemed more than enough new approaches to cornering to master from the first level. I can't even remember what seduced me into doing Level 2, but I did it at Eastern Creek. This time I chose to hire one of the school's bikes – a full on sports bike, a Suzuki GSXR600. That aspect alone was a new experience and fun. In retrospect, I think unfamiliarity of the bike might have contributed to my hesitancy with the set-piece drills of Level 2. It took a disproportionate part of the day to start to feel comfortable with the track work. There was also an element of the skills to be learnt being less tangible than in Level 1. I ended up with mixed feelings about the value of doing Level 2.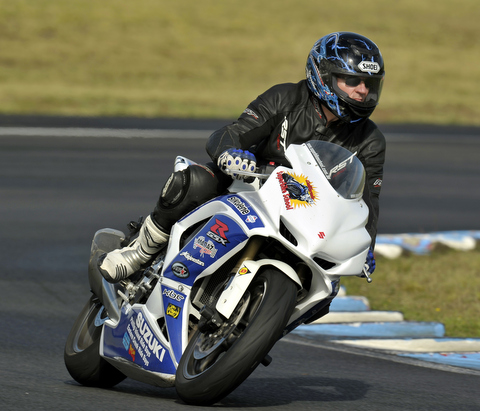 Having "sold" the benefits of the school to friends from Brisbane, who wanted to do the course at Phillip Island (>1700km ride for them), I decided to accompany them and do Level 3! We booked for the first of the season's sessions, with reservations about the notoriously unpredictable weather at Phillip Island in spring, being right on Bass Strait. However, we struck it lucky with lots of sunshine albeit accompanied by some challenging temperatures (~5ºC – probably a lot worse with wind chill) on the ride from Canberra (~600m) through Nimmitabel (~1100m) to the coastal area on Victoria around Cann River. The day of the course was sunny and a veritable balmy 19ºC.
I was pleasantly delighted to discover the Level 3 skills to be learnt were all very tangible, with the 'classroom' (more 'garage') work being focussed on positions and actions taught on a bike, set up solidly on a stand. The practice drills were a very tangible extension of the 'classroom' segments. I got much more out of Level 3 than I did from Level 2 so was very pleased at having done it.
Conclusion
O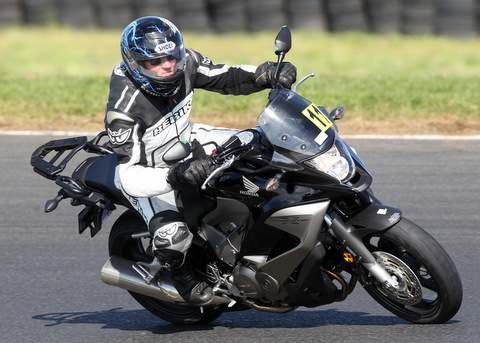 verall, I would rate the teaching methodology and the approach involving specific skills and drills very highly. While I found the Stay Upright courses valuable at the time, I think the California Superbike School courses provides a more reassuring foundation and greater confidence relating to all aspects of cornering. The approaches of each organisation towards cornering are, in many ways, different. As a relative new-comer to motorcycling, I'm not is a position to say whether one or other organisation has exclusivity on the better approach, but I would have to say I feel more comfortable with the California Superbike School's approach in general, although aspects of the Stay Upright approach still have a place in some circumstances.